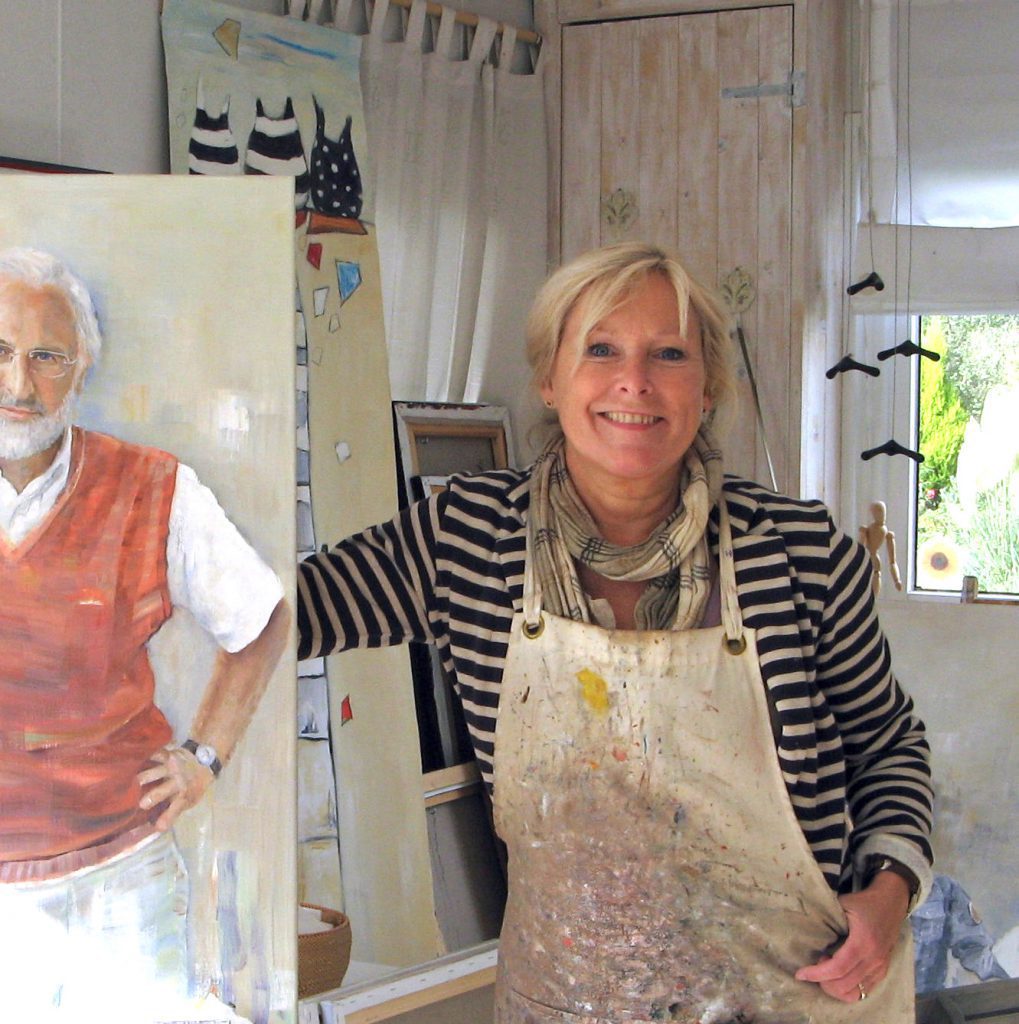 My studio is in Leiden where I work daily on commissioned portraits and free work.
Oil paint is my favourite medium and recently I started to use wax as medium as well. This is a new product from America which you can blend with oil paint and which produces beautiful layered paintings.
portraits
I paint the portraits with much pleasure, I feel a close tie to the person I paint and that makes it so interesting. I feel a portrait needs to show the person, not a moment in time.
It has to surpass a photo and be a unique and personal portrait.
Apart from showing character and a resemblance I also strive for an interesting painting, well painted and good to look at.
For more information about the procedure, contact me.
un-commisioned work
In the free work I seek more to experiment. I strive for effective, layered paintings, canvasses that continue to fascinate.
I usually work in themes, currently paintings showing women and girls. Not as persons but as atmosphere and impression. The intention is that the viewer thinks of his / her own story.
Our Dutch idiosyncrasies return regularly – the beach, the bike, our dogs (in a bag, or not).
For more information, please contact me.
exhibitions, a selection
La Table, Lifestyle Fair in Naarden Vesting. 2015, 2016, 2017.
The Art Route Leiden, annual event, every year in September.
AAF, Affordable Art Fair, Kromhouthal, Amsterdam Noord, with professional society
Art show in Noord Brabant, 2015
Various exhibitions Gallery Leidse Lente
Art fair in the Westeinderplassen, several years
Brooklyn Hotel, Amsterdam
Gallery Pulitzer Hotel, Amsterdam
National Day of Arts, Amsterdam
Open Art Fair, Utrecht
Galerie Oost 99, Hoorn
Galerie Kleur, Dordrecht
Walls Galerie, Prinsengracht, Amsterdam
September 2008, Invitee d'Honeur de Peintres de Grimaud (St. Tropez, France). Group exhibition of seven Dutch artists.
special commissions
Portraits of the Board of Directors AFAS ERP, Leusden
Portrait Professor C.C. Sterk, LUMC
Art ball for Unicef, on the occasion of the international summit for the 25 years of Children's Rights Treaty
Portraits of the managing directors of DAVO, Deventer
Portrait of the founder of AGU Sport, Mr J. v.d. Kommer
Portrait of Anita Witzier for the magazine LINDA
Portrait of the former director of Cedar BV, Hoofddorp, Mr A. Beemsterboer
Netherlands Royal Air Force, triptych in oil, group portrait of the last group of HSV, The Last Supper, total width 310 cm.
BDO Camps Obers, group project. Several custom made pieces from reception to meeting rooms.
art education and training
Diploma Professional Painting (5 years) at the Art Academy Haarlem / Leiden
Teacher Training in Arts and Crafts, SOL Utrecht